Hi everyone! I'm Jessica Davis – interior designer and hardware designer – owner of Atelier Davis and Nest Studio. But I'm not here today to talk about interiors or hardware. One of my passions is gardening and garden design so I thought it would be fun to contribute my garden knowledge here instead. I've loved gardening ever since I moved to Texas in middle school. My dad would drive me to piano lessons on the weekends and together we would listen to Texas garden guru Neil Sperry's garden radio show on NPR. I was hooked and would spend hours pouring over garden magazines. I even drew several backyard makeover plans and submitted them to Southern Living Magazine in the hopes that they would make over our garden for us. Sadly that never happened but I did get a kind letter from the garden editor recommending several landscape design programs.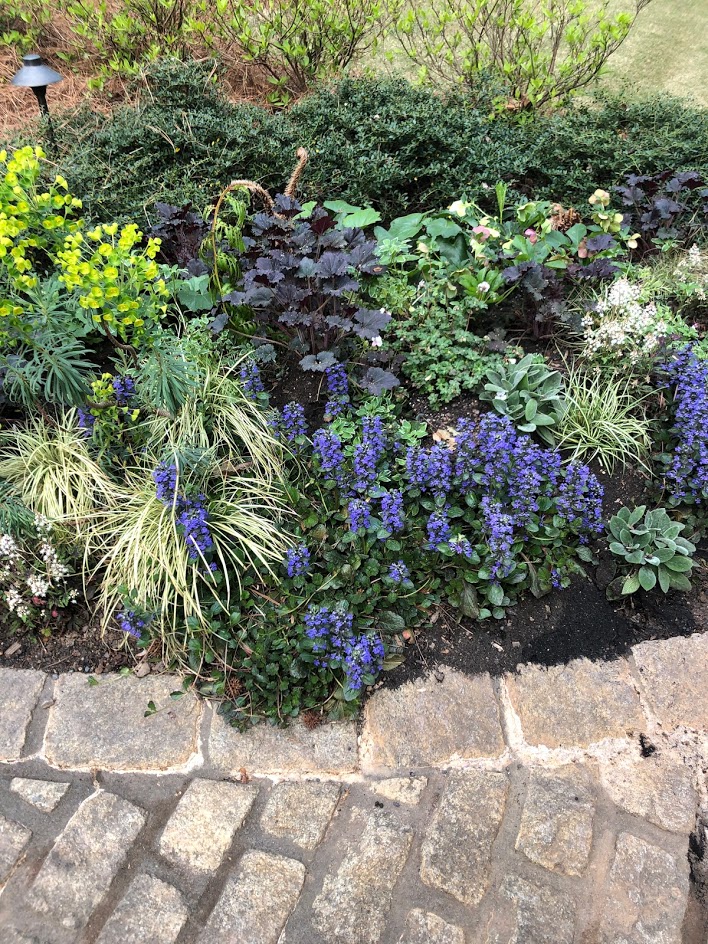 Obviously, I pursued a slightly different but still adjacent career path However, my passion for gardening has continued into adulthood and followed me to the many residences, gardens, and climates that I have been lucky to call home. I know gardening and garden design can be a little daunting, especially for people who maybe are used to dealing with things that are more static. Gardens are constantly growing and evolving and you have to plan them from the onset for how they will look in the future. But to be completely honest, garden design isn't all that different than an interior design or any other type of design for that matter. The same rules apply.
Just like with an interior, you always want to consider the function of your garden first. Do you want a spot for dining? For the kids to play ball? Does your yard need to be fenced for pets? Would you like to create a veggie and herb garden that accessible from your kitchen? I like to think of gardens in zones like rooms of a house and design each for its function with a common theme that ties everything together.

Think through all of the elements of design: composition, symmetry, negative space, texture etc. I like to think of a lawn or paved area as negative space – a spot to let your eye rest. Formal gardens involve a lot of symmetry or garden "architecture" while casual gardens might have a more natural flow of shapes and textures.
Create a base palette – I like to think of these items as your walls, floors and ceiling. Some of these items might be hardscape – stone pavers, a pergola, or even the side of your house. Other elements of your base palette might be actual plantings such as grass, evergreen shrubs, trees, and groundcovers.
Now add your focal moments. In an interior, this might be an amazing sofa, a piece of art, or even a show-stopping rug. This is also true for gardens. A flaming Japanese maple, a swath of muhly grass that sways in the wind, a beautiful perennial bed, or even a wall fountain can all serve as focal moments.

Add in your accessories. I'm not talking about trays pillows and throws here (although those are certainly useful in the garden as well). But I am talking about layering. This is where texture and pattern come into play – mixing plants with waxy leaves, delicate fronds, spotty variegation, and of course pops of color – to make your eye move around.
Think seasonally. Just like switching to a cozy throw for fall. Make sure you have year round interest in your garden. I'll dive into this more in another post. Most people think about spring and flowers when selecting plants, but if you live in a snowy climate you might want to select evergreens that have texture even under snow cover or something with interesting bark or gnarly stems when everything is dry and dead. Similarly something may not have amazing spring blooms but perhaps has great fall foliage such as Burning Bush Euonymus. Annuals provide seasonal color that you can switch out. I love watching my purple hyacinth bean climb up a trellis and flower at the very end of summer when you think everything is done blooming.
Finally, one of the best things about gardening is of course all of the other forms of nature that gardening supports. If you select the right plants, especially pollinators, your garden will not only showcase the beauty of the flora you've selected but also bring the wonders of butterflies, hummingbirds, frogs, crickets, and earthworms (yes I said earthworms).
Stay tuned as I dive into more specific topics like composting, my favorite dry shade plants (yes, large trees suck up a lot of water and shade can be very dry!), fast-growing annual vines, veggie gardening, and more.